Article
Médecins du Monde firmly condemns the attack on Al Ahli Baptist Hospital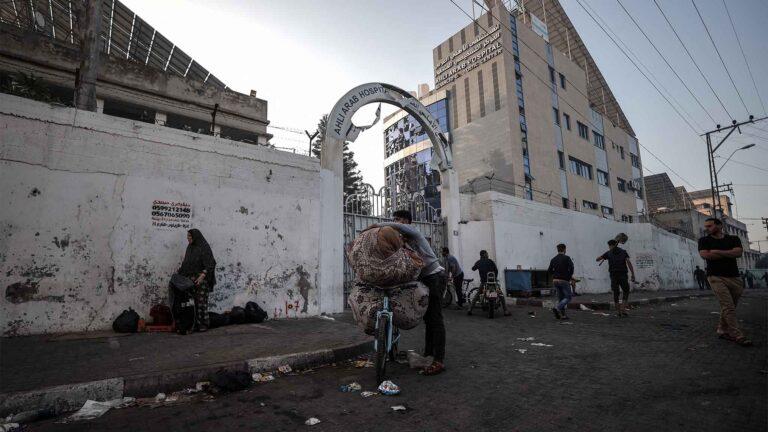 © AHMAD HASABALLAH GETTY IMAGES via AFP
On 17 October, a massive strike hit Al Ahli Arab Hospital, one of the main hospitals in the Gaza strip, killing hundreds of the most vulnerable people – children, patients, families that had been seeking refuge.
It was one of 20 hospitals in the north of the Gaza Strip facing evacuation orders from the Israeli military, which was impossible to carry out given the current insecurity, critical condition of many patients, and lack of ambulances, staff, health system bed capacity, and alternative shelter for those displaced.
Médecins du Monde, as an international health organization working in Gaza and the West Bank since 1994, strongly condemns this indiscriminate attack on this major health facility. A fair, impartial and independent investigation must be conducted to identify who is responsible for this attack violating international humanitarian law and amounting to a war crime. Perpetrators must be held accountable.
The destruction of Al Ahli hospital only stresses the need for an immediate ceasefire, the unhindered access of humanitarian aid into Gaza and the unconditional protection of health infrastructures and personnel, as well as civilians.
Healthcare infrastructures and staff have been heavily targeted since the beginning of the escalation, with WHO reporting over 115 attacks on healthcare across the Occupied Palestinian Territory. The attack on Al Ahli hospital is however of an unprecedented scale.
Therefore, Médecins du Monde calls on States and the international community to exert maximum pressure on the parties involved to put an end to the escalating violence and to the humanitarian crisis in Gaza. All parties must respect international humanitarian law, protect civilians, healthcare staff and infrastructures and humanitarian access. Essential aid, especially medical supplies and fuel, must urgently enter the Gaza Strip in sufficient quantity to allow hospitals, healthcare centers, ambulances and pharmacies to keep operating, as they are currently running out of power and experiencing shortage in emergency medical supplies, putting the lives of hundreds of civilians at risk.
Open Call for an Immediate Ceasefire in the Gaza strip and Israel