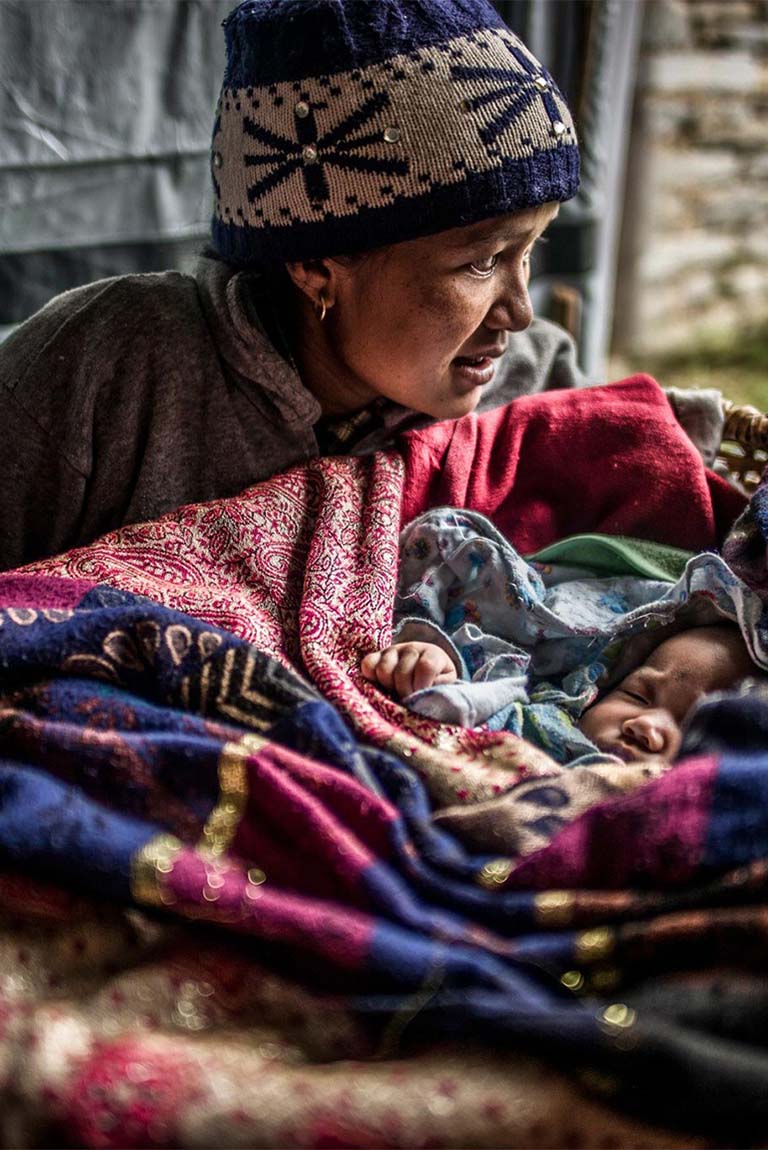 Nepal
BETWEEN 7,000 AND 15,000
informal waste collectors and recyclers working in the Kathmandu Valley.
48
%
of waste recyclers are originally from India and face multiple social barriers due to their ethnic origin and caste.
66
%
of informal waste collectors and recyclers report suffering from work-related injuries
Médecins du Monde's emergency response includes a range of humanitarian assistance programmes. Find out more below about our work and missions in Nepal.
FROM URBANISATION
TO
HEALTH
EMERGENCY
THE CONSEQUENCES OF VERY RAPID URBANISATION
The Kathmandu Valley is home to over half of the urban Nepalese population (over 4 million people) and faces a number of different environmental problems, in part due to poor management of solid waste and to air and water pollution.
Over 1,000 tonnes of waste are produced every day in Kathmandu, Nepal's capital, resulting in appalling sanitary conditions.
Poor management of solid waste is having a disastrous impact on both the local environment and the health of the informal waste workers and people who live in the Nepalese capital.
Very similar environmental challenges associated with waste collection and management are found in Nepalgunj, Banke District, another location where Médecins du Monde operates.
This industrial city and trade hub in western Nepal, on the border with India, is home to around 200,000 people.
OUR HUMANITARIAN ASSISTANCE
IN
NEPAL
This crisis situation is the result of unbridled urbanisation and the impact is felt on the environment, as well as in social and human terms. Médecins du Monde has therefore implemented a humanitarian assistance plan in Nepal.
PROTECTING THE ENVIRONMENT AND WORKERS' HEALTH
SUPPORTING WASTE COLLECTORS AND RECYCLERS

Médecins du Monde has been working with waste collectors and recyclers in the Kathmandu Valley since 2018 and we extended our activities to Nepalgunj in 2020.

Our work in the two regions seeks to improve the health, wellbeing and livelihoods of people involved in the waste sector. In particular, Médecins du Monde is looking for ways to mitigate occupational risks and environmental exposure and to provide greater access to information and appropriate, tailored healthcare, including occupational health services. In addition, the initiative should ensure greater recognition of how these workers are contributing to sustainable waste management in Kathmandu and Nepalgunj.

In partnership with two local NGOs (SASAJA and Green Path Nepal in Kathmandu) and the Kathmandu and Nepalgunj municipalities, the programme takes a holistic approach, focusing on three main areas of intervention:

prevention of occupational risks and improving the waste management system;
access to health services for informal waste collection and recycling workers;
the structure of the informal waste collection and recycling sector.

In 2021, Médecins du Monde supported the establishment of a coordination platform in Kathmandu and another in Nepalgunj. These platforms bring together public and private agencies, as well as civil society and non-governmental organisations involved in waste collection and recycling. Stakeholders from the sector have had opportunities to meet, share experiences and focus attention on the issues experienced by people working in this area, thereby empowering them to act.

IMPROVING ACCESS TO HEALTH SERVICES

Throughout the year MdM has worked to improve access for waste collectors and recyclers to good quality health services that can address the needs of people working in this sector.

Awareness-raising sessions were organised for the beneficiaries, focusing particularly on avoiding musculoskeletal conditions, risk prevention in relation to waste dismantling, how to prevent animal bites and provision of tetanus vaccinations.

Médecins du Monde has also undertaken capacity-building with health facility staff, focusing on health and safety at work, a relatively new concept in Nepal. Staff are trained to provide medical consultations specifically tailored to people working in waste collection and recycling. In addition, Médecins du Monde has helped the Kathmandu municipality to upgrade a pioneering health centre to create an "urban health promotion centre" which will be accessible both to workers from the waste management sector and to Kathmandu Valley residents.

Waste workers were the group most at risk in urban areas during the Covid-19 epidemic. This was due to their living conditions, the nature and informal character of their work and the everyday discrimination they face, especially in accessing health services.

MdM sought to protect this particularly vulnerable group by distributing personal protective equipment to waste collectors and recyclers and to health centres in Kathmandu and Nepalgunj, including isolation centres for people who tested positive for Covid-19.

We also continued the training and information sessions originally developed in 2020 for these frontline workers on good hygiene practices and protective measures.

In 2021, we:

educated 1,700 waste collectors and recyclers through 232 information sessions about the risks associated with Covid-19, possible preventative measures and health and safety at work,
provided 1,250 sets of personal protective equipment to people working in the waste sector and healthcare staff,
supported 22 health centres, including the urban health promotion centre in Kathmandu, 4 Covid-19 isolation centres and 14 health centres in Nepalgunj,
trained 67 health centre staff in workplace health and safety
1,700

Beneficiaries in 2021

537,753

€

Budget in 2021
1,700
Beneficiaries in 2021
Timeline
Community health and AIDS prevention programme opened in Baglung, Myagdi and Parbat Districts (closed in 1999).

AIDS prevention programme opened in Gulmi, Arghakhanchi, Syangja and Palpa Districts (closed in 2006).

First project combining access to healthcare and microfinance services in 12 communities in Sindhupalchok District.

Expansion of the programme to 10 more communities in the same district.

Emergency response following the earthquake.

Post-emergency reconstruction programme started in Sindhupalchok.