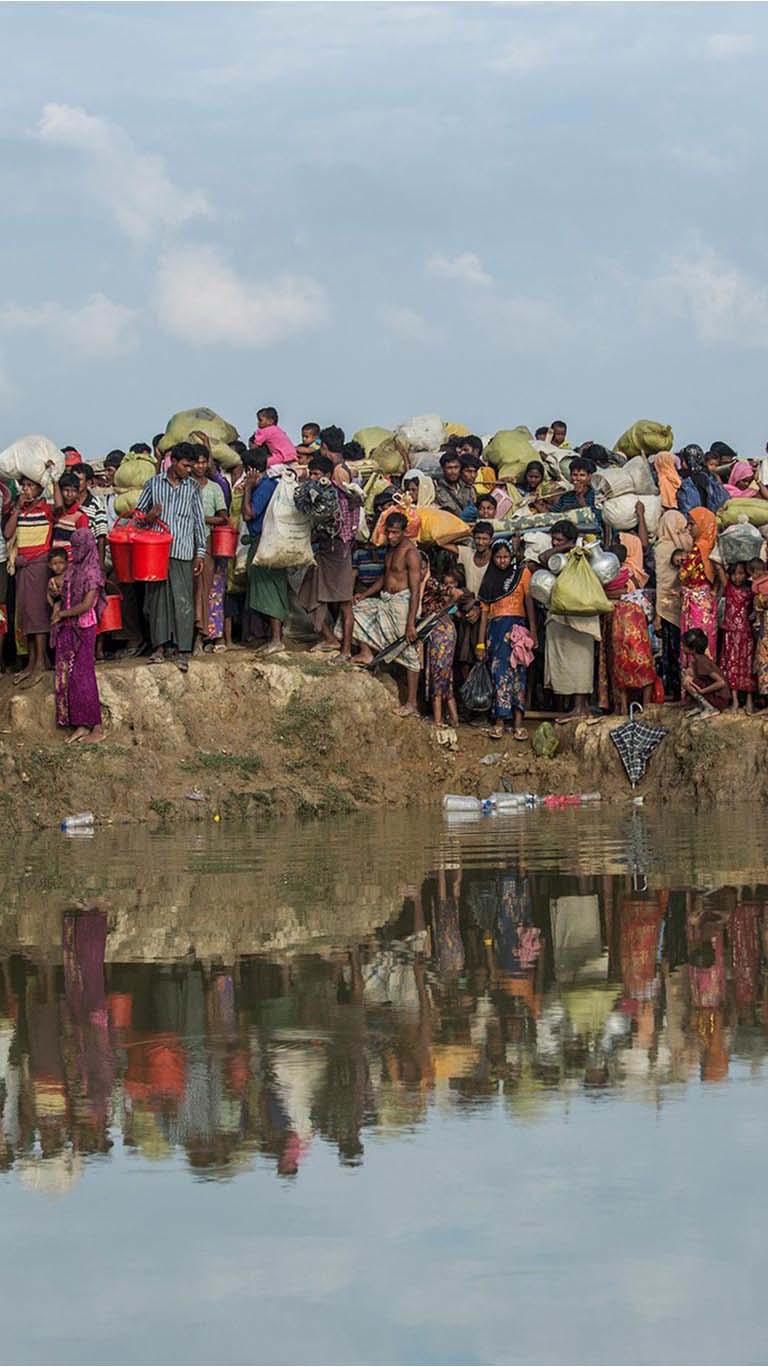 Bangladesh
© Arnaud Finistre
918,841
Rohingyas have taken refuge in Bangladesh
+ de 900,000
Rohingyas are living in the camps of Cox's Bazar district
52
%
Of Rohingyas refugees are children and new-borns.
Médecins du Monde's emergency response includes a range of humanitarian assistance programmes. Find out more below about our work and missions in Bangladesh.
THE

HUMANITARIAN

SITUATION

IN BANGLADESH
THE ROHINGYA PEOPLE ARE IN DISTRESS
In Myanmar (formerly Burma), in the state of Rakhine, the Rohingya people have been facing decades of systemic discrimination, statelessness and targeted violence. Since August 2017, more than 800,000 Rohingyas have taken refuge in Cox's Bazar, in the south of Bangladesh, adding to the number of refugee populations already living in the country. Almost 918,000 Rohingyas are now refugees in Bangladesh with 900,000 of them living in Cox's Bazar camps. This situation has created critical humanitarian needs.
OUR CAUSES: MIGRATION, EXILE RIGHTS & HEALTH 
COX'S BAZAR MEGA CAMP: THE LARGEST REFUGEE CAMP

In Bangladesh, most of the refugees currently live in 34 camps densely crowded and the majority of them are Rohingyas. They form a mega camp, called Cox's Bazar, and is infamously known for being the largest humanitarian camp in the world.

A hundred NGOs have provided humanitarian assistance on site, but the Rohingyas remain in dire straits.

According to the UN, the future of the most persecuted minority on the planet remains more uncertain than ever. Several attempts to repatriate Rohingyas to Myanmar were initiated over the past years but have been stopped abruptly because of the coup in February 2021. Many Rohingya refugees are worried about their future and are considering returning to Myanmar. They will only be able to do so when the issues surrounding citizenship, security, legal rights and access to services will be permanently dealt with. Their hopes have been crushed by the return to power of the military junta in Myanmar.

CATASTROPHIC LIVING CONDITIONS

Tensions have been on the rise in the camps as well as in the hosting communities, to such an extent that Bangladesh built fences around the camps in 2019. The Rohingyas are now prohibited from owning mobile phones and accessing the internet.

This is how, at the end of December 2021, almost 16,775 people were relocated on the Bhasan Char Island, an island at risk of flooding. To this day, international NGOs have very little information regarding the actual living conditions of the Rohingyas.

THE IMPACT OF THE HEALTH CRISIS ON THE REFUGEE CAMPS

The Covid-19 pandemic has disrupted the daily life of populations: the movement restrictions in the camps as well as the lockdown during summer in the Cox's Bazar region has exacerbated inequalities and gender-based violence. It also disrupted access to essential services.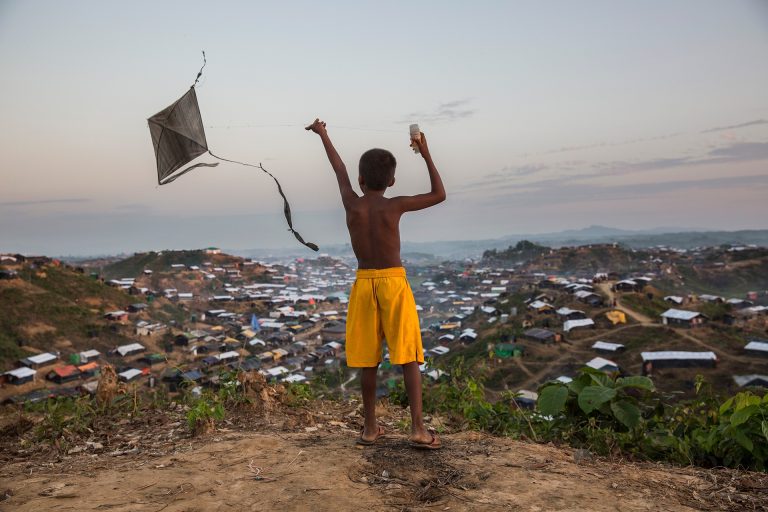 © Arnaud Finistre
Our
humanitarian
assistance
in Bangladesh
IMPROVING PHYSICAL AND PSYCHOSOCIAL WELL-BEING IN COX'S BAZAR
Médecins du Monde has been providing medical assistance in Bangladesh since 2017. We have been strengthening the capacity of local organisations in order to improve access to mental healthcare and psychosocial services and to provide better support for the survivors of gender-based violence. These tools were used for training the staff of many organisations working in Cox's Bazar.
We built four Community Resource Centres in camps for hosting populations as part of our work in Bangladesh. They are spaces of confidentiality and trust to help people access specialised care and mental healthcare, as well as psychosocial support for survivors of gender-based violence.
Finally, Médecins du Monde and its partners have set up a response to the humanitarian emergency in Bangladesh to fight against the Covid-19 epidemic by organising massive information and awareness-raising campaigns regarding protective measures against Covid-19 in the camps and the surrounding areas for hosting populations.
In 2021, we:

helped 56 community groups access health and gender-based violence care and individuals in need of mental and psychosocial support,
provided mental and psychosocial support to 202 gender-based violence survivors,
informed and raised awareness for 10,064 people on gender-based violence, sexual and reproductive health and mental and psychosocial health.
10,100

Beneficiaries in 2021.

687,675

€

Budget in 2021
10,100
Beneficiaries in 2021.