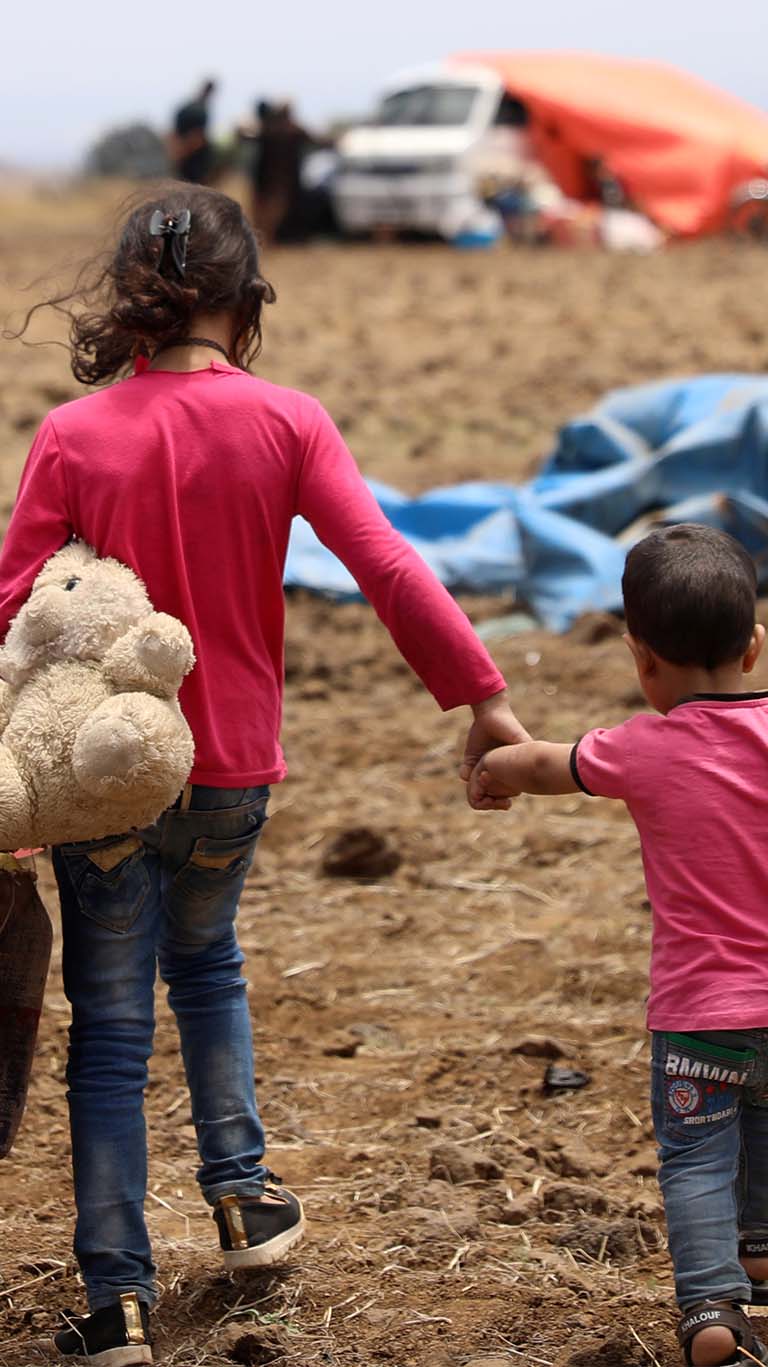 Syria
© Reuters
6.9
MILLION
people internally displaced within the country.
5.6
MILLION
refugees outside the country.
14.6
MILLION
Syrians in need of humanitarian assistance.
OVER 50
%
of health workers have fled the country.
THE HUMANITARIAN SITUATION
IN
SYRIA
Since the beginning of the war in 2011, the violence against the civilian population in Syria has only intensified and become more complex. Many regions suffer regular bombardment and civilian populations are subjected to human rights violations and abuses, caught in the crossfire between government forces, armed opposition forces, allies of the two sides and extremist factions.
The transportation of humanitarian aid continues to be hampered by problems of access, especially in areas once more under the control of the Syrian regime. Similar difficulties are now also experienced in the areas held by the opposition, where cross-border humanitarian aid has been reduced under pressure from the regime. There is now just one authorised border crossing point, weakening the capacity of humanitarian organisations to support communities.
Attacks on health workers, their vehicles and equipment and on healthcare facilities are still taking place, in violation of international humanitarian law. This is severely impairing access to healthcare for the most vulnerable.
Since the beginning of the uprising, health workers have been subjected to a campaign of persecution, and humanitarian assistance has been criminalised in areas held by the opposition.
OUR

HUMANITARIAN

WORK

IN SYRIA

Our humanitarian mission in Syria is focused on medical assistance in response to inequalities in access to healthcare and the disruption caused by the Covid-19 pandemic.
Ensuring access to healthcare
RESPONDING TO THE HEALTH NEEDS OF THE SYRIAN POPULATION

Since October 2012, Médecins du Monde has been working with Syrian nurses, midwives, pharmacists and doctors to provide primary healthcare and sexual and reproductive health services to vulnerable communities.

Many civilians who have been displaced during the conflict have been able to access care and treatment through health centres in urban areas and through mobile clinics. Healthcare including antenatal and postnatal care has been provided to 35,946 people in southern Syria.

Médecins du Monde also offers emergency assistance in the form of supplies of essential medicines to respond to the needs of the people affected by the conflict. Those particularly in need are people with chronic conditions, unvaccinated children, pregnant women without access to obstetric care and women in general who don't have access to sexual and reproductive healthcare.

TRAINING AND EQUIPPING LOCAL MEDICAL STAFF

The main aim of our activities remains to protect civilians in the face of new military offensives and abuses, as well as unconditional medical assistance for vulnerable communities, both in rebel-held areas and in areas under government control.

Local partners ensure the supply of essential medicines and equipment, which are extremely scarce in the conflict zones and the areas that have been recaptured by the regime and stripped of their health services. In addition, local health workers are supported and trained to strengthen their technical medical skills.

This helps them to ensure the continuity of services in a context where the public authorities are no longer funding healthcare facilities throughout the country.

RESPONDING TO THE CHALLENGES OF THE COVID-19 PANDEMIC

In 2021, the people of Syria continued to be affected by the Covid-19 pandemic, with 177,321 confirmed cases. By November 2021, just 3.9% of the population had been fully vaccinated and the country recorded its highest rate of infections. Syria's fragile health system is still feeling the impact of the pandemic.

Médecins du Monde has continued to support our local partner to provide a response to the Covid-19 pandemic in some parts of southern Syria.

With our support, personal protective equipment (such as masks and gowns) was provided for healthcare workers.

Local communities also received information about protective measures and how to identify symptoms.

In 2021, we:

supported 1 partner with 3 health centres and 3 mobile clinics,
provided 51,810 primary healthcare consultations,
provided 8,400 sexual and reproductive healthcare consultations.
35 946

Beneficiaries in 2021.

570 712

€

Budget in 2021.

(Crisis and Support Centre (CDCS); German Federal Foreign Office (GFFO))
35 946
Beneficiaries in 2021.
570 712
€
Budget in 2021.
(Crisis and Support Centre (CDCS); German Federal Foreign Office (GFFO))
Timeline
Programme on access to healthcare initiated in the Aleppo region.

Support at the Reyhanli post-operative care centre which looks after refugees on the Turkish border.

Establishment of static and mobile clinics in the north west of the country.

Support for healthcare facilities inside Syria and opening of a mother and child healthcare centre.

Support at the post-operative care centre in Sarmada, in the Idlib region.